Traditional
Taurus Traits

Patient and reliable
Warmhearted and loving
Persistent and determined
Placid and security loving
On the dark side....

Jealous and possessive
Resentful and inflexible
Self-indulgent and greedy
LIKES

Stability

Being Attracted

Things Natural

Time to Ponder

Comfort and Pleasure
DISLIKES

Disruption

Being pushed too hard

Synthetic or "man made" things

Being rushed

Being indoors
Your ruling planet is VENUS

.

Mean distance from the Sun (AU) 0.723
Sidereal period of orbit (years) 0.62
Equatorial radius (km) 6052
Polar radius (km) same
Body rotation period (hours) 58.32
Tilt of equator to orbit (degrees) 177.3
Number of observed satellites 0



Some more interesting facts about your sign: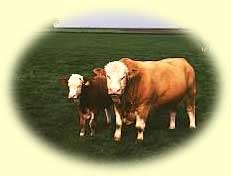 The animal associated with you sign is this tough looking bull. The Egyptian Hourus was the bull of heaven, and a white bull was sacrificed in Babylonia at the New Year to placate Ramman, the god of thunder and lightning.
The color of choice for Taurus is
PINK
Your Starstone is the
EMERALD
Emeralds from Egypt are known to date from about 330 B.C., and indirect evidence suggests that Egyptians were mining emerald as early as 1300 B.C. The name emerald comes from the greek smaragdos meaning "green stone" and probably referred, in fact,not just to emeralds but to all or many green gems. Emerald boasts a great deal of folklore. It was used as a burnt offering, a symbol of St. John, and supposedly was a poison antidote, a cure for fevers and epilepsy, eye relief (due to the exceptional color), a cure for dysentery and leprosy, a cure for ophthalmia and bleeding, a cure for stomach problems (when laid on the stomach), and a good laxative.
---------------------------------------------
-
SOME FAMOUS TAURUS


April 21, 1926 - Queen Elizabeth II - British Royalty

May 06, 1856 - Sigmund Freud - Psychologist

May 07, 1901 - Gary Cooper - Actor

May 05, 1818 - Karl Marx - Revolutionary

April 23, 1452 - Leonardo Davinci - Artist